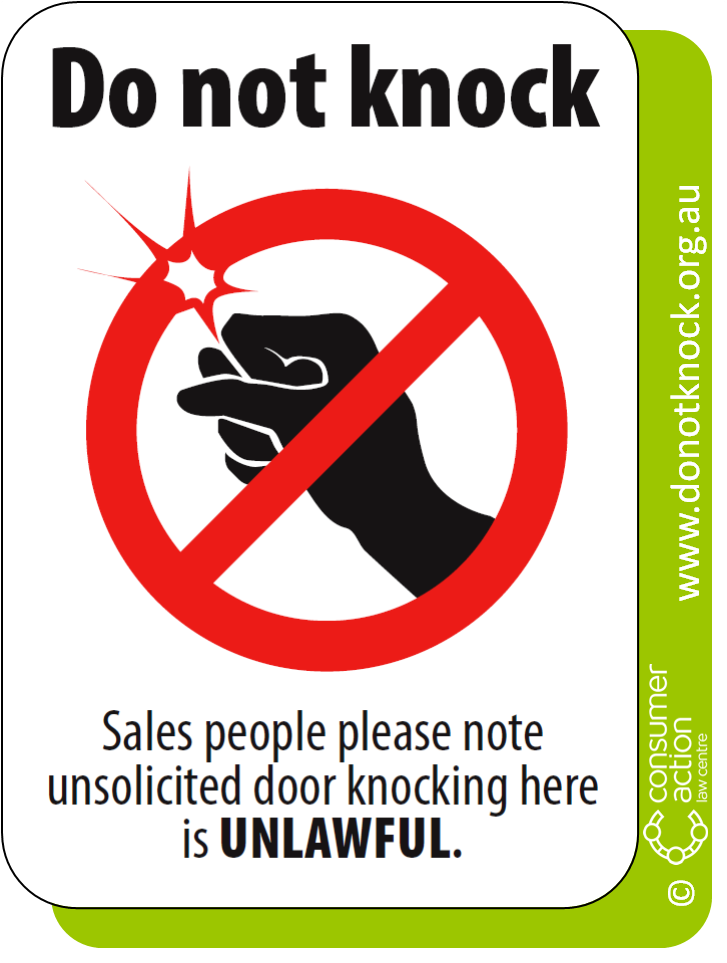 When displayed in a prominent location – such as on your gate post or by the front door – a Do Not Knock sticker sends a clear message to salespeople – they are not welcome at this address. Here's how to get the sticker:
Contact Consumer Affairs in your state/territory
Consumer Affairs departments are now printing and distributing Do Not Knock stickers. Please contact them directly to find how to get copies.
Victorian community organisations can order a sticker published by Consumer Affairs Victoria via CAV's website – choose the General Publications order form.
South Australian community organisations and individuals should use the Legal Services Commission's publications order form.
Pick one up from one of our partner organisations
Use the list below to find the nearest to you. We suggest you check with them directly to confirm whether they still have a supply of stickers – we'd appreciate you letting us know if they no longer stock them (email campaigns @ consumeraction.org.au).
Print out your own sticker
Click here to see a full size sticker to print.
Ask us to mail a sticker to you
Send a stamped, self-addressed DL sized envelope  to the following address and we'll post one out to you – note that we only have very limited stocks left, so only do this if you are requesting only one or two stickers.
Do Not Knock PO Box 16193 Collins Street West VIC 8007
(Note: If you don't send a self addressed AND stamped envelope we won't be able to send you a sticker).
If you'd like information on acquiring the sticker designed for Indigenous Australians, contact Centacare Forbes Wilcannia for pricing information on 02 6850 1788.
Pick up a sticker from more than 110 locations around Australia
STATE
SUBURB/TOWN
ORGANISATION
PICK UP ADDRESS
ACT
Mitchell
2CC Radio station
Level 1, 52 Hoskins Street
ACT
Holder
Meals on Wheels, Australian Red Cross
27 Mulley Street
NSW
Coonamble
Coonamble Neighbourhood Centre Inc
Shop 1, 17 Tooloon Street
NSW
Hamilton
Compass Housing Services Co
Suite 1, 44 Beaumont Street
NSW
Nowra
Office of Joanna Gash MP
24 Berry Street
NSW
Leichhardt
Metro Community Housing
48A Norton Street
NSW
Campbelltown
Legal Aid NSW Campbelltown Office
Level 4, 171-179 Queen Street

NSW
Croydon Park
Inner West Neighbour Aid
Located on grounds of Croydon Park Public School- Beresford Ave entrance
NSW
Griffith
Adrian Piccoli MP
NSW Government Offices, 104 Banna Avenue
QLD
Sunnybank
Office of Graham Perrett MP
Level 1, 250 McCullough St
QLD
Wynnum
Office of Ross Vasta MP
69 Clara St
QLD
Bungalow
Uniting Care Community - North Queensland Cairns
188 Aumuller Street
QLD
Chapel Hill
Office of Jane Prentice MP
636 Moggill Rd
QLD
Forest Hill
Office of Bernie Ripoll MP
255 Forest Lake Boulevard
QLD
Fortitude Valley
Tenants' Union of QLD
28 Robertson Street
QLD
Gympie
Uniting Care Community - Gympie
10 Channon Street
QLD
Logan Plaza
Office of Craig Emerson MP
Logan Central Plaza Wembley Road,
QLD
Miami
Office of Michael Hart MP
1 Paradise Avenue
QLD
Mount Isa
Mount Isa Family Support Service and Neighbourhood Centre Inc
14A Hilary Street
QLD
South Mackay
George Street Neighbourhood Centre Assoc. Inc.
4 George Street
QLD
Townsville
Community Information Centre Townsville Inc.
Level 1 Northtown, Flinders Mall
QLD
Cairns
Indigenous Consumer Assistance Network
1/192 Mulgrave Road
QLD
Booval
Office of Ian Berry MP
125 Brisbane Rd
QLD
West End
Australian Pensioners' and Superannuants' League QLD Inc
174 Boundary Street
SA
Waikerie
Waikerie Public Library
1a Strangeman Rd
SA
Victor Harbour
Victor Harbour Public Library
1 Bay Road
SA
Rostrevor
Uniting Communities
168 Montacute Road
SA
Barmera
Barmera Public Library
4 Barwell Avene
SA
Blair Athol
Lutheran Community Care
309 Prospect Road
SA
Elizabeth
Anglicare SA
91 Elizabeth Way
SA
Modbury
Office of Tony Zappia MP
959 North East Road
SA
Mount Gambier
Limestone Coast Migrant Resource Centre
13 Eleanor Street

  
SA
Berri
Berri Library & Information Centre
Kay Avenue
SA
Port Adelaide
Uniting Care Wesley Port Adelaide
58 Dale St
SA
Salisbury
Northern Area Migrant Resource Centre
28 Mary Street

  
SA
Nuriootpa
Lutheran Community Care
16 Gawler Street
SA
Torrensville
Churches of Christ CareWorks
114 Henley Beach Road
TAS
Devonport
North West Community Legal Centre
62 Stewart St  
TAS
Bridgewater
Hobart Community Legal Service - Bridgewater Outreach Office
Cove Hill Shopping Centre
TAS
Hobart
Hobart Community Legal Service
166 Macquarie Street

TAS
Sorell
Hobart Community Legal Service - Sorell Outreach Office
7 Station Lane
VIC
Altona North
Altona Physiotherapy & Sports Injuries Centre
233 Millers Road
VIC
Ballarat
Child and Family Services
119 Lydiard Street North
VIC
Ballarat
Direct2Care - Grampians
907 Sturt St
VIC
Bairnsdale
Office of Tim Bull MP
143 Main Street
VIC
Benalla
Benalla Rural City Council
Civic Centre - Fawckner
VIC
Bannockburn
Bannockburn Neighbourhood Watch
c/- B & S Stock & Pet Supplies, Cnr Burns & Milton Streets
VIC
Bendigo
City of Greater Bendigo
195 Lyttleton Terrace
VIC
Bendigo
Office of Jacinta Allan MP
35 Wills Street
VIC
Bendigo
Department of Justice and the Consumer Affairs Office in Bendigo
18-20 St Andrews Avenue
VIC
Bendigo
Loddon Campaspe Community Legal Centre
29 Queen Street
VIC
Berwick
Office of Brad Battin MP
Suite 5/6-8 Langmore Lane
VIC
Camberwell
Camcare Inc
51 St Johns Avenue
VIC
Camberwell
Office of the Hon Ted Baillieu
325 Camberwell Road
VIC
Cragieburn
Craigieburn Education & Community Centre Inc.
20 Selwyn Avenue
VIC
Cranbourne
Office of Jude Perera MP
157A Sladen Street
VIC
Leongatha
Leongatha RSL sub-branch
Cnr Smith Street and Michael Place
VIC
Dandenong
Dandenong RSL
44-50 Clow Street
VIC
Doveton
Doveton Neighbourhood Learning Centre
34 Oak Avenue
VIC
Doveton
Doveton Community Support Services
1A Frawley Road
VIC
Epping
Kildonan Uniting Care
188 McDonalds Road
VIC
Footscray
Footscray Community Legal Centre
Phoenix Youth Centre, Level 1, 72 Buckley Street
VIC
Geelong
The Salvation Army, Kardinia Network, Geelong 
26-28 Bellarine Street
VIC
Geelong West
Diversitat
153 Pakington Street
VIC
Geelong West
Karingal Inc.
59-63 Spring Street
VIC
Morwell
Consumer Affairs Gippsland
25 Ann St
VIC
Hamilton
Community Connections
92 - 94 Thompson Street
VIC
Hastings
Good Shepherd Youth and Family Services
1 Church Street
VIC
Hawthorn
Alzheimer's Australia Vic
98 - 104 Riversdale Road
VIC
Heathcote
City of Greater Bendigo
125 High Street
VIC
Kallista
Kallista Community House
2 Church St
VIC
Kensington
Flemington Kensington Community Legal Centre
22 Bellair St Kensington
VIC
Cranbourne
Cranbourne RSL
1475 South Gippsland Highway
VIC
Yarraville
Office of Martin Pakula MLC
231 Hyde Street
VIC
Wodonga
Gateway Community Health
155 High Street
VIC
Wodonga
UnitingCare Wodonga
Corner Norma Ave and Beechworth Rd
VIC
Wodonga
Hume Riverina Community Legal Service
Suite 5, 91 Hume Street
VIC
Windsor
Uniting Care Connections
274 High Street
VIC
Warrnambool
Community Connections
135 Kepler Street
VIC
Warrnambool
Centre for Human Rights and Social Justice
79 Liebig Street
VIC
Warrnambool
Office of Simon Ramsay MP
124a Koroit St
VIC
Wangaratta
Upper Murray Family Care
36 Mackay Streeet
VIC
Wangaratta
Women's Health Goulburn North East
57 Rowan Street
VIC
Wangaratta
Opendoor Neighbourhood House
61 Burke Street
VIC
Swan Hill
Office of Peter Walsh
274 Campbell St
VIC
Sunbury
Sunbury Community Health Centre
12 - 28 Macedon Road
VIC
Somerville
Office of Neale Burgess MP
6 Eramosa Rd
VIC
Shepparton
Shepparton District Tenant Group
Shop 7, 294 Wyndham St

VIC
Shepparton
Office of Kaye Darveniza
316 Wyndham Street
VIC
Shepparton
Office of Jeanette Powell MP
5 Vaughan St
VIC
Sale
Office of Peter Ryan MLA
54B Cunninghame Street

VIC
Rosebud
Southern Peninsula Community Support and Information Centre
878 Point Nepean Road
VIC
Portland
Community Connections
4 Gawler Street
VIC
Portland
Glenelg Shire Council Community & Culture Dept
71 Cliff St
VIC
Packenham
Cardinia Shire Council
Henty Way
VIC
Ormond
Glen Eira Adult Learning Centre
419 North Road
VIC
Ocean Grove
Bellarine Police Community Support Register Inc
Ocean Grove Police Station, The Parade
VIC
Oakleigh
Office of Ann Barker MP

19 Station Street

Vic
Newcomb
Office of Lisa Neville MP
Shop 1 Newcomb Central
71 Bellarine Hwy

VIC
Mount Beauty
Mount Beauty Neighbourhood Centre
1 Tennis Court Avenue
VIC
Mount Waverley
Office of Anna Burke MP
Level 1, 207 Blackburn Road
VIC
Morwell
Gippsland Multicultural Service
100 Buckley Street
VIC
Morwell
Anglicare Victoria
162 Commerical Road
VIC
Melbourne
Seniors Information Victoria
Level 4 Block Arcade, 98 Elizabeth St
VIC
Mildura
Mallee Family Care Inc
122 Ninth Street
VIC
Mildura
Centacare Family Services
129 Langtree Avenue
VIC
Maryborough
Office of Joe Helper MLA
177 High Street
VIC
Mill Park
Office of Harry Jenkins MP
Shop 23-25, Stables Shopping Centre
314-360 Childs Road
VIC
Melton
Djerriwarrh Health Services -
Melton Community Health Centre

Cnr High and Yuille Streets
VIC
Melbourne
Housing for the Aged Action Group
1st Floor, Ross House
247 – 251 Flinders Lane

WA
Halls Creek
Jungarni-Jutiya Indigenous Corporation
Lot 94 Thomas Street
WA
Bunbury
Bunbury Community Legal Centre
1st Floor Lotteries House, 101 Victoria Street
WA
East Perth
6PR Radio Station
Level 1, 169 Hay Street
  Want to help?  Get your organisation added to this list by making stickers publicly available. Please use the main order form above if you want to get stickers to distribute privately to your friends and neighbours.