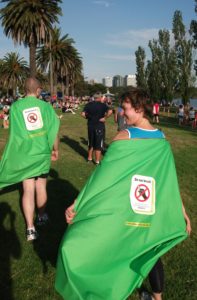 This week, 3 of the dedicated staff at Consumer  Action took part in a 10km fun run in Melbourne.  They did their bit to help promote awareness of the  sticker by wearing magnificent capes – no small feat on a warm afternoon!
Wearing a cape is certainly not everyone's cup of tea, so here are a few other ways you could help promote the sticker:
If you're on Facebook, click the 'Share' button on the Get the Sticker page to post it to your Wall
Tweet about it! Use the hash tag #donotknock and link to the  Get the Sticker page
Send your family and friends a link to the page via email
If you're a community organisation, sign up to become a partner and give out stickers through your shopfront or client program
Individuals can order stickers to give out through your networks – some people get stickers for their parents group, community group, retirement villages. Use the regular order form
And of course if you'd like to  get in touch about your own idea – or to get the pattern for your own cape – please do!